The William and Flora Hewlett Foundation
The William and Flora Hewlett Foundation has been making grants since 1967 to help solve social and environmental problems at home and around the world.
The Foundation concentrates its resources on activities in education, the environment, global development and population, performing arts, and philanthropy, and makes grants to support disadvantaged communities in the San Francisco Bay Area.
I Am Aware believes in fostering partnerships to strengthen and create of avenues for collecting, assessing, and disseminating data on public service provision. Partnerships are also aimed at ensuring commitment to the objectives of I AM AWARE, and to help give legitimacy and credibility to our data. To that end, the project works with the media, Civil Society Organizations (CSO) and other agencies whose mission and focus align with the intended goals of the campaign.
Rural Initiatives for Self-Empowerment Ghana (RISE-Ghana) is a youth-led non-profit organization founded in 2011 by a group of young persons concerned about widespread poverty and inequality in Northern Ghana. The Organization aims to promote human dignity and sustainable development through rights-based approaches. It works by ensuring that poor and marginalized communities in Northern Ghana are empowered to become independent and self-sufficient.
Since its inception, RISE-Ghana has contributed to increasing the visibility and advocacy on the quality of public goods and services through sustained advocacy using both traditional and new media platforms. RISE-Ghana has a proven track record of delivering quality programs on time.
Mission: To facilitate and initiate processes/programs that empower poor people's movements to access and utilize the social, human and natural resources they need in a sustainable and timely manner to become self-reliant.
Vision: A world in which human rights and sustainable development informs all actions to empower people to live in dignity.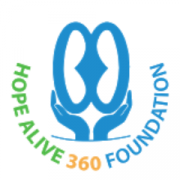 Hope Alive 360 Foundation (HA360F) is a registered not for profit Non-Governmental Organization (NGO) in Ghana. Since 2014, HA360F has been working predominantly in the northern parts of Ghana's Western, Bono, Bono East and Ahafo Regions. Its aim is to advance equitable development especially in deprived and vulnerable communities through partnership with State and non-State actors
Mission: To work with State and non-State actors to mobilize resources to implement projects and programs with a participatory approach to ensure that nobody is left out in the development process irrespective of their gender, location or social and economic background.
Vision: Entrench participatory processes through a network approach that strengthens equality in the formulation and implementation of policies, distribution of resources to secure the sustainable development of communities.
Community Development Alliance (CDA-Ghana) is a registered women and child-centered Non-Governmental Organization (NGO). Located in the Upper West Region of Ghana, CDA-Ghana has since 2008 worked on empowering people, connecting capacities and transforming the lives of the poor and underserved people and communities in Ghana. Social inclusion and gender equality are at the heart of CDA-Ghana's work.
CDA-Ghana's primary focus is amplifying citizens' voices, convening, coordinating and catalyzing grassroots advocacy actions geared towards influencing public policy and service delivery that meets the needs of the poor and most vulnerable in society.
Mission: Fight corruption, poverty, disease and inequality through social mobilization, capacity strengthening and policy influencing actions.
Vision: A just and prosperous society, free from corruption, poverty, disease and discrimination".
Keba Africa is a registered Non-Governmental Organization (NGO) that operates in the Central Region of Ghana. Keba Africa works in the education, health, environment and social protection sectors. 
Mission: To be the number one promoter of sustainable human development
Vision: Is to create a more vibrant, equitable and informed society through economic, social and legal education
Youth Advocates Ghana (YAG) is a youth-led non-political, Non-Governmental Organization (NGO) located in Nsawam in the Eastern Region of Ghana. YAG was formed to meet the challenges confronting children concerning sexual abuse and its related consequences. Within the past eight years, YAG has extended its programs to cover sectors such as education, sexual and reproductive health and rights, governance and the Sustainable Development Goals (SDGs). YAG is accredited to the International Youth Federation and the Convener of the Youth-Sub platform under the CSOs Platform on SDGs Ghana and the Secretariat for the 2030 Youth Alliance for Africa, the host and organizers of the African Youth SDGs Summit.
Mission: To transform the lives of children and youth by improving access to information and enhancing participation in sexual and reproductive health, education and livelihood programmes.
Vision: A society where children and youth influence decisions that affect their lives, enjoy their rights and assume their responsibilities as full citizens.
Resource Link Foundation (RLF) is a civil society organization set up in 2001. It operates in the Bono Region in Ghana. It supports deprived communities through advocacy, capacity building, service delivery and resource mobilization to bridge the gap between the haves and have nots.
Mission: To serve the marginalized and deprived communities through advocacy, capacity building and resource mobilization to improve the standard of living of Ghanaians in diverse ways.
Vision: To ensure the lives of the deprived and marginalized are transformed and developed.
Support for Community Mobilization Projects/Programs (SCMPP)
Support for Community Mobilization Projects/Programs (SCMPP) is a Non-Governmental Organization (NGO) set up in 2003 to improve the socio-economic status/livelihood of the rural-urban poor.
 SCMPP does this by creating awareness, mobilizing material and human resources, and establishing Community-Based Organizations (CBOs) using participatory methodologies to ensure good governance, improved health and education status and increase employment opportunities for the people/youth.
Currently, SCMPP is implementing transparency and accountability projects in Western Region, specifically in Shama and Wassa East districts.  It is also implementing projects to ensure a safe and protective environment for children within the region.
Citi 97.3 FM is an Accra-based radio station in Ghana. The station combines a comprehensive and credible news function, backed by innovative listener-driven on air programs, with vibrant audience participation. The station is well-noted to be listener-focused with innovative on-air programs, and its strong advocacy for consumer issues, including road safety, sanitation, education, good health care, security and so on.
Citi FM covers the vibrant Ghanaian political scene with objective and balanced live reports, news features and documentaries as well as regular round-table discussions on pertinent issues.